Many patients have developed tooth misalignment issues that require braces. For this reason, many are looking for a
braces provider in South Carolina
that can offer them high-quality braces at an affordable price. However, choosing the right doctor for braces in South Carolina SC is not always easy. There are many factors to consider when choosing an orthodontist. Let's go through them one after another to help you make a wise decision for your treatment with braces in South Carolina.
#1 – Check the orthodontist's services available.
Braces at present come in many different types. Orthodontics has come a long way in recent years, and new braces options are being made available all the time. You must choose an orthodontist who can provide you with the specific braces you're looking for. Some braces are made of different materials, colors, and sizes. And some braces are even invisible! There are braces for both children and adults. The best orthodontist will be able to offer you a wide selection such as metal and ceramic, clear plastic aligners, and hybrid braces.
#2 – Look for their education and credentials.
The best orthodontist will have completed an accredited orthodontic residency program. This is in addition to the four years of dental school that all braces' providers must complete. The top orthodontist for braces in South Carolina SC should be able to show such a level of education. Aside from that, the best braces providers will also be active members of professional braces organizations, such as the
American Association of Orthodontists
(AAO). These memberships show that they are keeping up to date with the latest braces technology and methods. Some orthodontists also have their field of research, awards, publications, higher educational attainments in medicine, and braces patents which are all a plus in the brace game.
#3 – See what people say about them.
Choose an orthodontist with a good reputation. You can ask around for recommendations from family and friends or search online for braces provider reviews. When reading orthodontist reviews, be sure to pay attention to both positive and negative feedback. Find out what people liked and didn't like about their experience with the braces in South Carolina provider. This will give you a well-rounded idea of what to expect from them.
#4 – Consider their location in South Carolina.
The top braces provider in South Carolina should be conveniently located for you. This will make it easier and more convenient for you to keep your appointments. It's also important that the orthodontist you choose has a clean and comfortable office. This will make your braces experience more pleasant.
#5 – Consider their brace prices and payment options.
Of course, you will also want to consider the braces provider's fees. Be sure to ask about their payment options and whether they accept braces insurance. The orthodontist you choose should be upfront about their fees and payment options. They should also be able to work with you to create a payment plan that fits your budget.
#6 – Ask about their experience with braces in South Carolina SC.
The orthodontist you choose should have plenty of experience in braces. They should be able to answer all of your questions about braces and help you make the best decision for your smile. Check their website or ask them about the years they have worked as a brace doctor in general, as well as working with specific brace types like Invisalign and self-ligating types. This way, you can be sure that you're getting the best braces treatment possible.
#7 – Ask about their brace technology.
The braces technology used by the orthodontist is important. You want to be sure that you're getting the most advanced and up-to-date braces available. Such a technology used can also affect the price of braces. Therefore, be sure to ask about the brace technology used before making a decision.
Top Orthodontist for Braces in South Carolina SC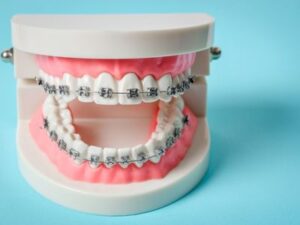 Indian Land Orthodontics
is undoubtedly the best orthodontic team in Indian Land, SC! Dr. Meredith Quimby and Dr. Kelly Collins are trusted orthodontists that have helped countless patients achieve their dream smiles. Dr. Quimby earned her Doctor of Dental Surgery degree from the
University of Iowa College of Dentistry
. While in dental school, she also worked in a craniofacial research lab studying the genetic causes of Cleft Lip and Palate as part of the Human Genome Project. She completed her orthodontic residency at The Ohio State University receiving a Master of Science in orthodontics. Dr. Collins, on the other hand, graduated from the Harvard School of Dental Medicine and then received her degree in orthodontics from The Ohio State University. She is an athlete, playing soccer and basketball in high school and college. Dr. Collins believes that the skills she learned as an athlete helped her accomplish her goal of becoming an orthodontist and remain present in her practice. Indian Land Orthodontics is also equipped with the latest braces technology, which is why they are often chosen as the best braces provider in South Carolina. We use Sprint-Ray 3D Printing, iTero Digital Scanner, and clear aligners technology. Our patients always come first, and we make sure to provide the best possible experience and service. They have been satisfied with the braces technology and treatments we offer. Check out some of our reviews: Katy Richert
We love Indian Land Orthodontics! From the receptionist Miss Beverly to the amazing Dr. Quimby, our experiences have been awesome. They are knowledgeable, experienced and very helpful with the entire process. The prices are the best I've found and the friendly service and individual attention is almost unheard of these days. Prestige new offices and great atmosphere-We highly recommend!
Whitney Williams
My son just completed phase one of his braces. We loved our experience at Indian Land Orthodontics. The doctors are kind and great with kids. It is a convenient location. We will be back for phase 2 in a couple of years.
Rusty Rich
They are, hands down, the best orthodontist in the area.
Schedule a Consultation Today
If you want to receive the best orthodontic care for your unique needs and preferences,
book a complimentary consultation
with Indian Land Orthodontics today! During your consultation, we will discuss your options for braces in South Carolina and help you decide which type is right for you. We will also answer all of your questions and address any concerns you may have. Our practice offers in-office financing, Care Credit, online payment options, and payment terms that are as low as $100/month. We also accept most insurances and can help you process your claim. These makes treatment more affordable for each patient who needs it. Our office is located at 6237 Carolina Commons Dr Suite 350, Indian Land, SC. Kindly visit our website for more information.