If you're in need of orthodontic treatment, it can be tough to find a qualified orthodontist for adults near me. Orthodontists are typically geared towards treating children and teenagers, so many adults don't know where to turn.
Indian Land Orthodontics
offers a competitive location to receive orthodontic treatments for adults in South Carolina. Our office can be found at 6237 Carolina Commons, Dr Suite 350, Indian Land, SC.
Indian Land, South Carolina
Indian Land is a beautiful and welcoming community that is perfect for orthodontic treatment. Our location allows us to serve patients from all over the state, and we're proud to be a part of this vibrant community. Indian Land prides itself in holding some of the best parks and recreation in the state. With over 30 miles of trails and 300 acres of parks, there's plenty of opportunity to get outdoors and enjoy nature. It is also home to a variety of businesses and must-try restaurants. From BBQ to Mexican and everything in between, you're sure to find a new favorite spot in Indian Land. If you are from Spring Valley, Fort Mill, Rock Hill, or any of the surrounding areas in South Carolina, our orthodontic office should be your go-to! Neighboring areas in NC such as Charlotte, Pineville, and Matthews are also a short drive away. We offer a variety of services such as Invisalign, traditional braces, and even
retainers
. All adult patients can find what they need at Indian Land Orthodontics.
Best Orthodontist for Adults Near Me
In looking for the best orthodontist for your adult needs, you need to consider a few things.
First, you should find an orthodontist who has experience treating adults.
You can ask your family and friends for recommendations or look online for customer reviews. Searching for 'orthodontists for adults near me' online can also help you find a list of orthodontists in your area. Dr. Meredith Quimby and Dr. Kelly Collins have been working with adult orthodontic patients for years. They have dealt with all kinds of orthodontic cases and know how to treat each patient as an individual.
Second, you'll want to consider what type of treatment you're looking for.
Do you want Invisalign, traditional braces, or something else? Each type of orthodontic treatment has its own set of benefits and drawbacks. You'll need to decide which type of treatment is right for you. At Indian Land Orthodontics, we offer all types of treatments from traditional and ceramic braces to Invisalign and hybrid options. We also use the latest technology, which means fewer appointments and a shorter treatment time for you!
Third, you should consider the cost of orthodontic treatment.
Treatment can be expensive, so you'll want to make sure you're getting the best value for your money. Look for an orthodontist with a payment plan that fits your budget and ask about any discounts or promotions they may be running. At Indian Land Orthodontics, we offer flexible payment terms as well as special discounts and promotions. We also accept most major
insurance plans
and credit card companies.
Lastly, you should be comfortable with the orthodontist of your choice.
You'll be spending a lot of time with your orthodontist, so it's important that you feel comfortable with them. Schedule a consultation to meet the orthodontist and ask any questions you may have. Dr. Quimby is a Tarheel who has Midwestern roots. She loves golf, and as a matter of fact, competed in numerous NCAA tournaments and national amateur events. She loves working with patients of all ages and getting to know each one of them. Dr. Collins, on the other hand, believes being an orthodontist is the greatest job in the world because it combines her love of science, the arts, and teaching with her passion for patient care. She is also an athlete, playing soccer and basketball both in high school and college. We offer complimentary consultations so that you can come in, meet our doctors and team, and see our state-of-the-art facility. We want you to feel comfortable with us before you make any decisions about
orthodontic treatment in Indian Land
.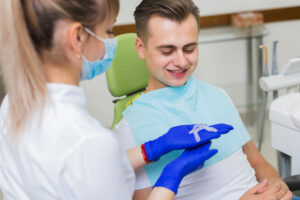 Start your Orthodontic Journey with Us
Contact
our office to schedule a consultation today and learn more about what we can do for you! We look forward to meeting you and helping you achieve the smile of your dreams.