Dr. Quimby and Dr. Collins are specialists in orthodontic treatment in Indian Land SC who help you achieve a straight smile and are located in Indian Land, South Carolina. Using Invisalign in South Carolina, we can help you achieve the smile of your dreams. We're located next to Fort Mill, SC. Dental care needs to be a priority and we help you with deciding the most effective route for your smile. Whether you need traditional metal brackets or an Invisalign aligner system for teens or adults, we will help you choose the best treatment option. With the newest orthodontic technology, we get you the smile you want.
Straighter Teeth – Happier You
Invisalign can help improve your smile and your overall dental health. We're here to help you achieve the smile that you want. Crooked teeth can lead to problems like tooth decay, gum disease, and TMJ dysfunction, but straightening them with Invisalign or a clear aligner system, can help improve the fit of your bite and reduce these risks for teens and adults alike.
Invisalign aligners are a great option for people with mild to moderate orthodontic concerns who want a more convenient and discreet treatment. Discreet, because they are harder to see than traditional braces. However, traditional braces may be needed in some cases as well. We speak with our patients about all of this at their appointment to make sure we take the right course of action to deliver you the smile of your dreams.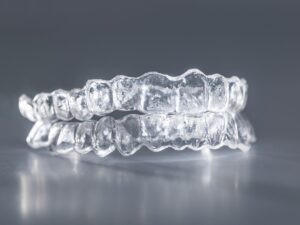 Invisalign in South Carolina
How much does Invisalign usually cost?
It's difficult to quote a price on Invisalign because it depends on the patient's needs, treatment plan and the practice that you go to. The national average cost of an Invisalign case is $5,000. However, for some patients, the cost may be higher or lower depending on the number of aligners needed to achieve the desired results of the patient.
Compared to the traditional metal braces, Invisalign is typically less expensive (again depending on your specific case) and can straighten teeth without being noticed by others easily. Though again, metal braces are still needed in some cases. We will help you choose the right course that is needed to achieve the smile you want.
Are invisible braces typically covered by insurance?
Invisalign is typically not covered by insurance which can make the price fluctuate. We will help you with any billing and paperwork to maximize your dental insurance benefits at Indian Land Orthodontics. There also may be financing and payment plans available for patients concerned about the cost of Invisalign treatment. We work with everyone to get the best possible price for our patients.
How long do I wear Invisalign aligners?
Invisalign treatment usually takes between 6 and 9 months, but if you have an orthodontic relapse (i.e. you wore braces as a kid and your teeth have shifted slightly), treatment may only take 3 to 4 months. More significant alignment problems could take up to a year to correct.
How will Invisalign work for me?
Invisalign uses a series of clear plastic aligners to gradually shift the position of your teeth into a straight and aligned manner. Each aligner is worn for about two weeks or so. Simply put, the aligners are custom-made to fit your teeth and guide them into a straighter position.
Are Invisalign Aligners better than metal braces?
Because Invisalign is clear, no one will know you're wearing braces. We decide which is best on a case by case basis. However, the set of aligners are removable, so you can take them off to brush and floss your teeth. They can also be removed when you're eating, which means you can enjoy all the foods you love. However, there are benefits to both that we discuss with you in office during your consultation.
Call us at 803-573-2997 or schedule your free orthodontic treatment consultation. You can also view our special that we have running right now. This could save you $750 on your orthodontic treatment.