Each patient has unique orthodontic needs that require excellent care. We understand that finding the best Charlotte orthodontist for your family may be challenging, so we compiled a list of tips to help you make the best decision.
#1 – Check for training and education.
Orthodontists are required to have completed an accredited dental degree, which takes four years to complete. After graduating from dental school, they must then complete two to three years of specialized training in orthodontics.
When looking for an orthodontist, be sure to research their training and education. This will help you determine if they are qualified to provide the level of care you need.
#2 – Ask about experience.
In addition to training and education, it is also important to ask about an orthodontist's experience. How long have they been in practice? Do they have experience treating patients with similar orthodontic needs?
The more experience an orthodontist has, the better equipped they will be to provide you with the care you need. However, you still need to make sure they are up to date with the latest orthodontic advancements despite being in the field for many years.
#3 – Consider their location.
When choosing an orthodontist, be sure to consider their location. Do they have a convenient office for you to visit? Are their office hours convenient for your schedule?
It is important to choose an orthodontist that has a convenient location and office hours, as this will make it easier for you to keep up with your treatment.
#4 – Ask about treatment options.
Orthodontic treatment has come a long way in recent years, and there are now many different options available. Be sure to ask your orthodontist about the different treatment options they offer, as well as the pros and cons of each.
If you're already eyeing a specific treatment option, make sure to look for an orthodontist that offers it. For example, if you're interested in Invisalign, be sure to ask if they are an Invisalign provider.
#5 – Consider your budget.
Orthodontic treatment can be expensive, so it is important to consider your budget when choosing an orthodontist. Ask about their payment options and whether or not they offer to finance.
You should also ask if your insurance plan covers your orthodontic treatment. If it does, be sure to ask if the orthodontist is in-network with your insurance provider.
#6 – Check for the latest technologies.
The orthodontic industry is always changing, and new technologies are constantly being developed. Be sure to ask your orthodontist if they are using the latest technologies and if they offer any cutting-edge treatments.
For example, some of the latest orthodontic technologies include clear aligners and self-ligating brackets. If you're interested in these treatments, be sure to look for an orthodontist that offers them.
#7 – Schedule a consultation.
Once you've narrowed down your list of potential orthodontists, it's time to schedule a consultation. This will give you the opportunity to meet with the orthodontist, ask any remaining questions, and get a feel for their office.
Be sure to pay attention to how you feel during the consultation. Do you feel comfortable with the orthodontist? Are they knowledgeable and experienced? Do they make you feel at ease?
Orthodontist in Charlotte You Can Trust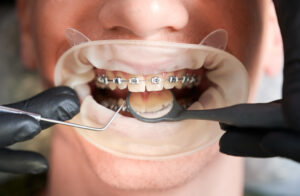 If you're looking for an orthodontist near Charlotte, take advantage of the fact that Indian Land Orthodontics in SC is just a 35-minute drive from Charlotte! We offer all modern types of orthodontic treatments such as metal, ceramic, and lingual braces, Invisalign First, and Teen, as well as hybrid options.
Dr. Meredith Quimby graduated from the University of North Carolina-Chapel Hill with Bachelor of Arts degrees in Biology and Chemistry and returned to Iowa. She attended the University of Iowa College of Dentistry, where she earned her Doctor of Dental Surgery degree.
She completed her orthodontic residency at The Ohio State University receiving a Master of Science in orthodontics. Dr. Quimby continues to focus her science background on new technologies of Cone Beam CT, SureSmile®, and the latest in orthodontic biomechanics.
With Indian Land Orthodontics, you can be confident you're getting the best orthodontic care available! Contact us today to schedule a consultation. We look forward to meeting you!